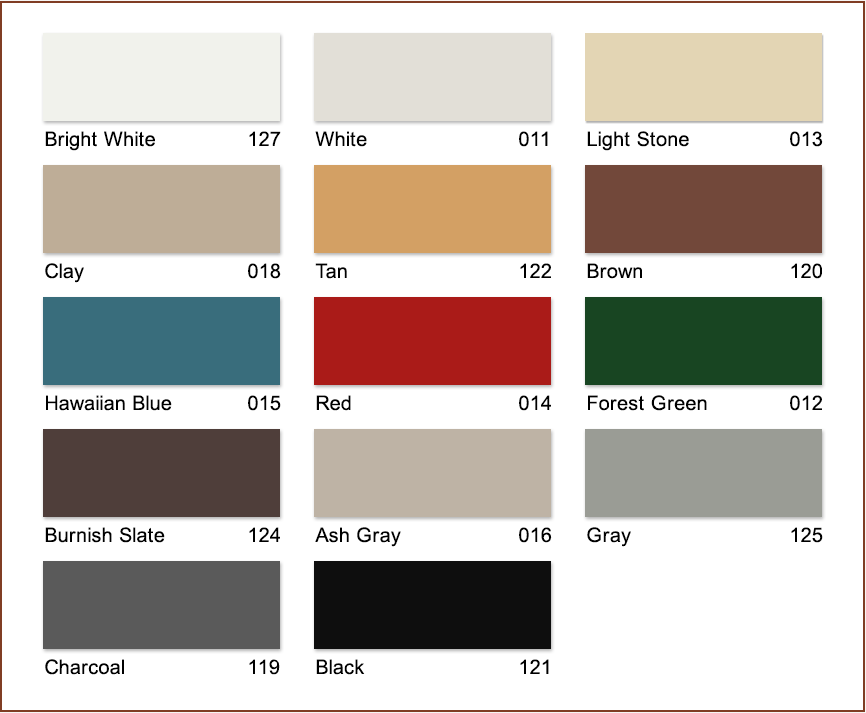 Metal Choices
Bi-Rite Economy Building customers have the option of choosing the metal skin of their building which best meets their budget and their needs. The metal choices are listed below.
Galvalume
Unpainted Galvalume (55% Al-Zn alloy coated steel) metal is a very economical metal choice and is often chosen when budget and durability are the prime considerations. Unpainted galvalume carries a 25 year Manufacturer's warranty.
H20 Painted Metal
H20 painted metal uses galvalume coating as a substrate beneath a silicon polyester paint. This provides both durability of galvalume and the enhanced appearance of painted metal. After painting, the metal is formed with a warm forming process to maintain the best possible bond between the substrate and the paint. Other manufacturers often skip this process.
14 color choices are available in the H20 painted metal allowing customers to have option of matching or complimenting the appearance of nearby homes and buildings. On buildings where customers have chosen the painted metal option for both roof and walls they may choose up to three colors for their building.
H20 painted metal carries a 20 year Manufacturer's warranty.
Buildings with painted metal may have up to three colors - one each for roof, trim, and walls.
Combining Unpainted Galvalume With H20 Painted Metal
Many times customers will choose the economy of an unpainted galvalume metal for the roof and painted metal for the walls. For these buildings, customers may choose one color for the wall metal and a different color for the wall trim. Roof trim in this instance would match the unpainted galvalume metal used for the roof. Buildings with this combination are remarkably attractive yet lower priced than buildings which are entirely painted metal.
Screw Fasteners
All exposed metal is installed using screw fasteners. Standard installation is with unpainted galvalume screw fasteners. Color matched painted screw fasteners may be chosen as an upgrade.